Fern Office Chair
Meet our best-selling chair for total back support, researched and certified by experts. Fern responds to every movement to give you complete comfort, from your neck all the way down.
Details

Inspired by the natural flexibility of a fern leaf, this chair evenly distributes weight as you move to help relieve pressure. At its core is our patented Wave Suspension system, which mimics the human spine and cradles your body in comfort.

To create Fern, our designers partnered with the Human Performance Institute at Western Michigan University, where we conducted comfort studies with experts in biomechanics, physical therapy, and kinesiology.

Not only is this chair good for you, it's good for the planet too. With GREENGUARD Gold® certification, Fern is independently tested to be free from over 10,000 chemicals to help contribute to cleaner air in your home.
Dimensions

Overall Height: 41.5"-47"
Overall Width: 29"
Overall Depth: 28.5"
Seat Height: 16.5"-21.5"
Seat Width: 19.9"
Seat Depth: 15.5"-18.5"
Arm Height: 6.7"-11.5"
Warrantied for people up to 325 lbs.
Reviews
How to Adjust & Care For Fern
Materials

Choose from breathable mesh, our zero-waste digital knit, or soft vegan leather. Mesh lets air pass through to naturally regulate body temperature. Our signature digital knit is knit to fit each chair using custom-fiber fabric. For a luxe look, choose our vegan leather — it's soft, durable, and easy to clean.
Shipping & Setup

Shipping

Get free ground shipping on all orders within the contiguous United States.
Most in-stock items ship within 3 business days.

Setup

No assembly required. Your chair will be ready to go, right out of the box.
Buying for a business? We can help.
Let's work together bring out the best in your team. We've been partnering with small to midsize businesses like yours for over 70 years. Learn more.
All the adjustments for every body.
Lumbar
Cradle your lower back with Fern's built-in support. Or add even more with an optional adjustment that moves in a 3.5" range.
Forward Tilt
Angle the seat downward by 5° to support a forward-leaning posture — perfect for focused tasks. 
Seat Height
Adjust the seat up and down depending on your height. Your knees should be at a 90° angle with your feet flat on the floor.
Tilt Tension
Adjust how much force is necessary to recline in your chair.
4D Arms
Move each arm up and down, side to side, front to back, and in and out for superior neck and shoulder support.
Fern in the wild, WFH edition.
Less like a chair. More like a human.
Wave Suspension System
Fern is famous for its exclusive, patented 3-part back system that cradles your entire back in comfort.
Flexible Fronds
Each one is calibrated to support a different area of your back, from the base of your neck all the way down to your pelvic area.
Cradle of Comfort
The cradle overlays the stem and fronds, creating a soft and pliable frame that we like to call "edgeless comfort."
Central Stem
The stem is Fern's spine that brings together the entire back of the chair. It supports each frond and encourages natural flexibility with your every move.
We play favorites. And Fern is one.
Comfort Study Winner
An independent ergonomics consulting firm evaluated four task chairs: Fern and three competitors. Each chair was pressure-map tested for its ability to flex and support users in five postures that are common while working. The clear winner? Fern, reported "most comfortable" by all.
Genuinely Sustainable
Fern is 95% recyclable. That means almost the entire chair can be broken down to be recycled — and it's designed for easy disassembly, so recycling is hassle free. Additionally, we don't use PVC, heavy metals, or flame retardants to make any of our chairs.
GREENGUARD Gold® Certified
Fern is independently tested to be free from over 10,000 chemicals to help contribute to cleaner air in your home. It's considered the most stringent standard for ensuring products are low in VOC emissions, which can lead to healthier indoor environments. Short for volatile organic compounds, VOCs are chemicals emitted as gasses into the air. The most common exposure is in our homes.
Patented 3-Part System
We took cues from the flexibility of a fern leaf to design this chair's exclusive three-part system — and it's a total innovation in human body support. Fern's stem, fronds, and cradle work in harmony to support every flex, twist, and motion you use through the day.
Reviews
Fantastic Office Chair
Having owned my Fern for just over a week, I have to say I am very satisfied. Comfort is top notch. Build quality seems excellent. Design is innovative, and most importantly it works well. It's also a nice looking chair. As a commercial photographer I spend seeming endless hours in front of a computer editing photos. My new Fern chair has made that part of my job much more enjoyable!
This is the best office chair ever!
Had a Herman Miller Embody for 8 years that got a ton of use but after a while that rubber band seat was just very uncomfortable to me so I went to the internet to find a better office chair. This chair was not even on my radar until I came across Marshall Fox's youtube video, then I saw Ahnesly's youtube video saying this chair was the best and BTODtv as well saying it was Ryan's #1 chair pick, reddit searches said the same thing. So either Haworth is paying people a lot of money for their opinions or this was a really good chair! I decided to pull the trigger and buy it and it has been amazing to use this past month! I went back and forth from my embody to this chair and it just felt more comfortable over all and everything just felt better, especially the digital knit back. I am now even more so happy about my purchase given the recent video that came out about Herman Millers CEO not giving their employees bonus while she herself got millions of dollars in bonus and incentive. My only regret is not going chair shopping 6 months ago as I prob could of snagged this chair when it was around 900 dollars instead of its current price. If you are on the fence about this chair, just get it!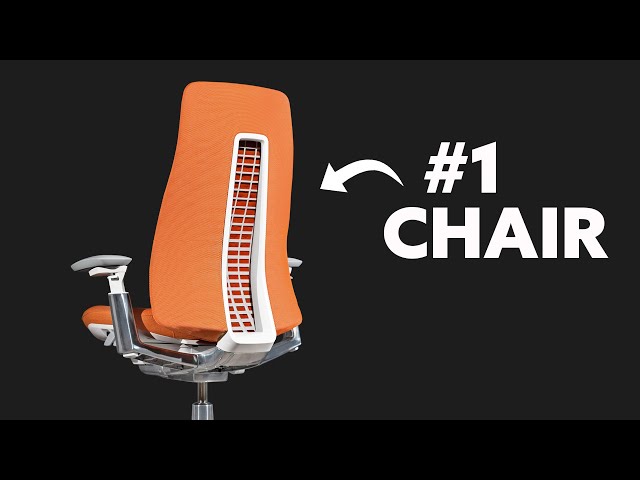 Hesitant.
I was very hesitant to spend so much on an office chair. Now I'm glad I did. Great chair. I like the way it's so easy to position for either watching TV or working with my computer. Great support in all situations.
Perfect chair
I was suffering from tailbone pain and after using this chair for about two weeks, I have no more pain! I love this chair and the customizable features. I also purchased the stand-up desk about a year ago and I can attest that Haworth continues to deliver high quality products.
Just Amazing!
Having been using the Aeron Chair for many years, we wanted 2 new chairs that would better suit the colors of our decor.
We saw the Fern Chair online, read lots of reviews and, oh boy, those reviews were right!
This chair is as comfortable as it is beautiful and we are so glad we purchased.