Base model starts at $169.00
Move your monitor right where you need it to help you be more comfortable and productive. The arm rotates 360°, and your monitor can move forward and back, tilt up and down, and be placed in landscape or portrait mode. Sleek, streamlined, and flexible, the Ergotron LX single monitor arm is ideal for home office use.
Warranty: 10-year warranty

Setup Time: 10 minutes
Bring your monitors to eye level in any position, plus move it forward or back to reduce strain and fatigue
Move your monitor to any position with effortless adjustment
Tilt your monitor up or down; ideal for low-angled screen views
Easily rotate your monitor up to 360° anytime you need to switch between portrait and landscape orientation
Increases workspace, getting your monitor off your desktop; folding arms are perfect for tight spaces
Simple to install, with all mounting hardware included
Cables route beneath the arm, keeping them out of the way
Folding arm frees up room in tight spaces and allows you to tuck your monitor under cabinets or shelves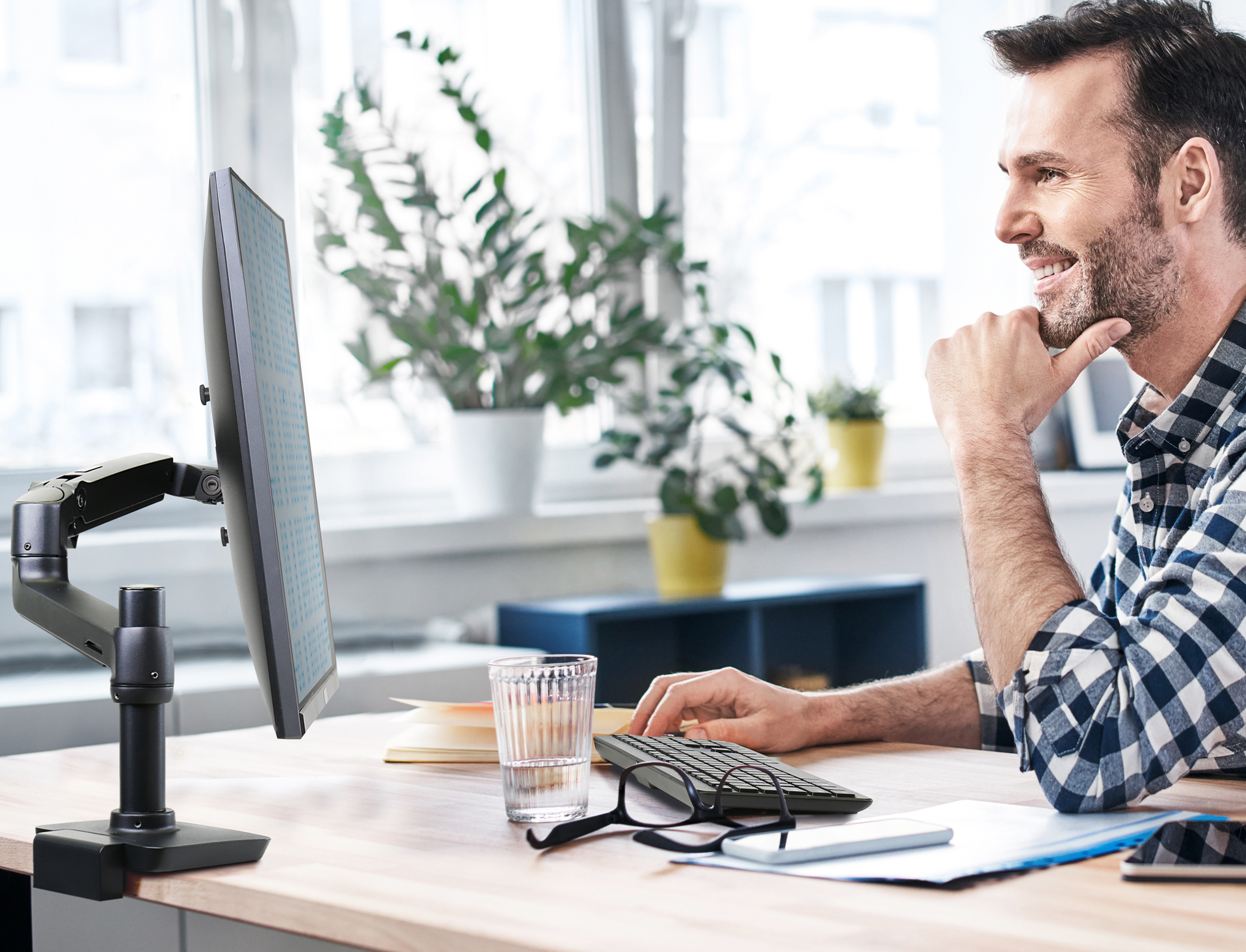 More Room to Work
A large monitor—or even a small one—can take up valuable workspace on your desktop. The Ergotron LX arm gets your monitor off your desk so you have more useful space for other work.
A Better-for-You Solution
The Ergotron LX monitor arm fosters overall well-being, providing you with healthy comfort through all your posture and position changes. It even works with Upside sit-to-stand desks, as well as most Ergotron sit-to-stand desk converters, supporting your efforts to add some movement to your day
Doesn't clamp on all desks
Doesn't clamp on all desksI really like the item, it looks to be good quality and just when I need. The problem is the clamp does not fit on all desks. I have a new desk from Staples and the overhang that I have is not sufficient to put the clamp in place to put the monitor arm on. I will have to return both the monitor arm, and the new monitor I bought for the monitor arm, because I can't use that on this desk. Seems like there should be a way to mount it on the desk without needing so much room underneath
Doesn't clamp on all desks
Doesn't clamp on all desksI really like the item, it looks to be good quality and just when I need. The problem is the clamp does not fit on all desks. I have a new desk from Staples and the overhang that I have is not sufficient to put the clamp in place to put the monitor arm on. I will have to return both the monitor arm, and the new monitor I bought for the monitor arm, because I can't use that on this desk. Seems like there should be a way to mount it on the desk without needing so much room underneath